Bibliografie 'Spielfilme im
Fremdsprachenunterricht'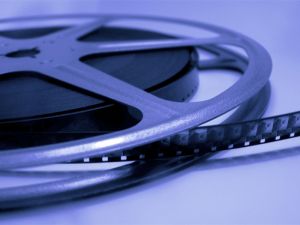 Teil 11: 2020 bis 2021
---
Download als pdf-Datei: hier

Blell, Gabriele: "Operating between Cultures and Languages. Multilingual Films in Foreign Language Classes", in: PFLB - PraxisForschungLehrer*innenBildung - Zeitschrift für Schul- und Professionsentwicklung 2 (2020), Nr. 4, S. 52-73.
Chaya, Piyaporn/Inpin, Bhornsawan: "Effects of Integrating Movie-Based Mobile Learning Instruction for Enhancing Thai University Students' Speaking Skills and Intercultural Communicative Competence", in: English Language Teaching 13 (2020), H. 7, S. 27-45.
Chevant-Aksoy, Aurélie/Knudson, Ericka: "Films for Inclusion. LGBT+ Perspectives in the French Language Classroom", in: Gras-Velázquez, Adrián (Hrsg.): Project-Based Learning in Second Language Acquisition. Building Communities of Practice in Higher Education. New York 2020, S. 251-270.
Desserre, Amélie: "Comment aborder le cinéma avec les élèves. Une expérience, des émotions", in: Praxis Fremdsprachenunterricht - Französisch 2020, H. 1, S. 7-9.
Foster, Julian David: "Target Vocabulary Building and Movies", in: Roy, Debopriyo/Blake, John (Hrsg.): PanSIG Journal 2019. Selected articles from the 2019 PanSIG Conference Tokyo, Japan. Tokyo 2020, S. 92-97.
Haider, Zeineb: "Using Movies in Teaching Creative Writing to EFL Student", in: Humanising Language Teaching 22 (2020), Nr. 1.
Im, Mijin: "A Suggestion About the Use of Salience in Learning Multiword Expressions Through an Animated Movie", in: STEM Journal 21 (2020), H. 2, S. 1-22.
Kassenberg, Tim u.a.: "Film Language Integrated Learning. A Usage-Inspired L2 Teaching Approach", in: Lowie, Wander u.a. (Hrsg.): Usage-Based Dynamics in Second Language Development. In Celebration of Marjolijn Verspoor. Bristol 2020, S. 271-294.
Kim, Hye-Jeong: "Acquisition of Formulaic Sequences. Explicit and Implicit Learning Through the Animated Movie, 'Beauty and the Beast', in: STEM Journal 21 (2020), H. 2, S. 23-43.
Koster, Dietha/Urbanek, Lukas: "Kino im Klassenzimmer - Praxisnahe Potenziale von Spielfilmen im Niederländischunterricht", in: Nachbarsprache Niederländisch 34 (2020), S. 155-166.
Lim, Juyoung: "A Study on Undergraduate Students' Satisfaction of the Self-regulated English Class Based on the Utilization of Movies", in: Modern Studies in English Language & Literature 64 (2020), H. 1, S. 319-346.
Merkuryeva, Vera/Shadrina, Anna: "Complex Text Analysis of German Fairytale Screen Adaptations. (In the Context of Media Education Principles and Objectives)", in: Media Education (Mediaobrazovanie) 60 (2020), Nr. 1, S. 144-153.
Ragni, Valentina: "More than meets the eye: an eye-tracking study of the effects of translation on the processing and memorisation of reversed subtitles", in: Journal of Specialised Translation 2020, Nr. 33, S. 99-128.
Ryan, Jonathon/Granville, Scott: "The suitability of film for modelling the pragmatics of interaction. Exploring authenticity", in: System 89 (2020), article 102186.
Sarghie, Raluca: "The Effectiveness of Using Film Extracts in Literature Classes", in: Humanising Language Teaching 22 (2020), Nr. 1.
Schober, Katalin: "Queering 'Moonlight'. Von der Filmanalyse zum Rollenspiel", in: Praxis Englisch 2020, H. 3, S. 39-43.
Simão, Diogo/Silva, Júlio Cezar Marques da: "Cinema em aula de língua estrangeira. Um estudo a partir das representações de brasilidade no filme 'Rio'", in: Revista Humanidades e Inovação 7 (2020), Nr. 8, S. 402-414.
Viebrock, Britta: "Based on a true story. Fakt und Fiktion im Spielfilm 'The Dark Horse' unterscheiden", in: Der fremdsprachliche Unterricht - Englisch 2020, H. 163, S. 41-46.
Yi, Yeon-Sook: "A Discourse- and Production-Based Approach to Teaching Sentence-Level EFL Grammar. A Cyber Course Using Movies", in: STEM Journal 21 (2020), H. 2, S. 65-93.
Yilmaz, Fatih: "Using films to teach Turkish as a foreign language. A study of classroom practice", in: Educational Research and Reviews 15 (2020), S. 282-289.

Burger, Günter: "Sweet Country. Filmbildung durch den Einsatz eines outback-Western", erscheint in: Praxis Fremdsprachenunterricht - Englisch.